I did a video about the last cruise, and it's finally up. We had no script for this - obviously; just chose some locations and started shooting. Great crew - they could see the shots and set up in a trice, and I think it took less than an hour to run through the ship and do it all. Again, no script, which is part of the fun. (There was a script in the last scene, inasmuch as I had to do it a few times because people walked in front of the camera.)
If you're interested in the bridge of these massive vessels, this is for you. Also there is an inordinately large carrot.
This is part of Old Spice's "Smell of the Wild" campaign, which is just wretched, but I'm not the target market. Young men who empty half a can on each pit are the target markets. But it says something, as all ads say something; it is desirable to have animal appeal, but only if such a thing is expressed with the proper ironic distance. It's like using that godless Burger King nightmare creature to underscore the virtues of monarchy, I suppose.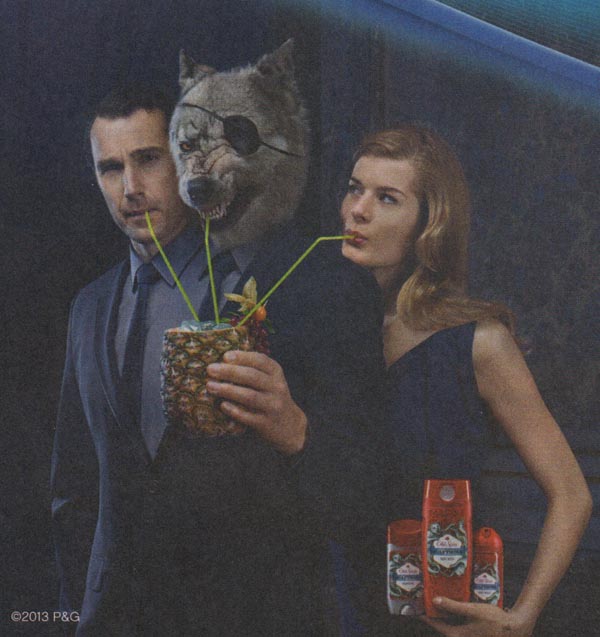 A wolf. With an eyepatch.
The last bastion of unapologetically MANLY ads were cigarette ads, particularly Camels. Guys with 70s 'staches - but those gave way to the cartoon camel in the 80s.
Okay, today it's short. I really did not intend to write a big long thing on suburbs, but you get going and it's fun, and who's there to stop you? Certainly not your own sense of shame.
But there's always something. That's the problem. Atlantic magazine headine: "Rwanda's Historic Health Recovery: What the US Might Learn." Enticing,eh? First graf:
Amidst the barrage of stories about failing states and civil wars that characterize the dour American media coverage of the developing world, the reinvention of Rwanda offers hope. Since the genocide with which its name is still synonymous in the United States, Rwanda has doubled its life expectancy and now offers a replicable model for delivery of high quality health care with limited resources.
I'd read on except for the "What the US Might Learn" part. Get back to me when our life expectancy is rising because the rate of hacking people to death with machetes has dramatically dropped.
No, that's unfair. There might be something I can learn. Don't be so close-minded.
First and foremost, credit belongs to the government of Rwanda's centralized planning.
He's really making this hard.
As the Global Fund, PEPFAR, and other organizations made unprecedented health aid available for disease-specific programs targeting HIV in the early 2000s, Rwanda has used this money to build a robust system of primary care. . . . Mutuelles receives half of its funding from international donors and half from annual premiums of less than $2 per person. For hospital care, patients pay a copayment of about $0.35 plus ten percent of the total hospital bill.
So there's the lesson? Get international aid? Apparently. And the lesson for the US:
Farmer believes that, if the United States extended health care into the community like Rwanda, care for chronic diseases would markedly improve while costs would over time drop.
Odd how "the United States" is described without elaboration. It often means "centralized planners should issue edicts to rural Iowa." I'm not opposed to Washington helping rural Iowa set up health care clinics, but I don't think the debate necessarily needs comparison to Rwandan co-pays.
The population of Rwanda, by the way, is under 12 million, which is four million people fewer than the greater Los Angeles area.