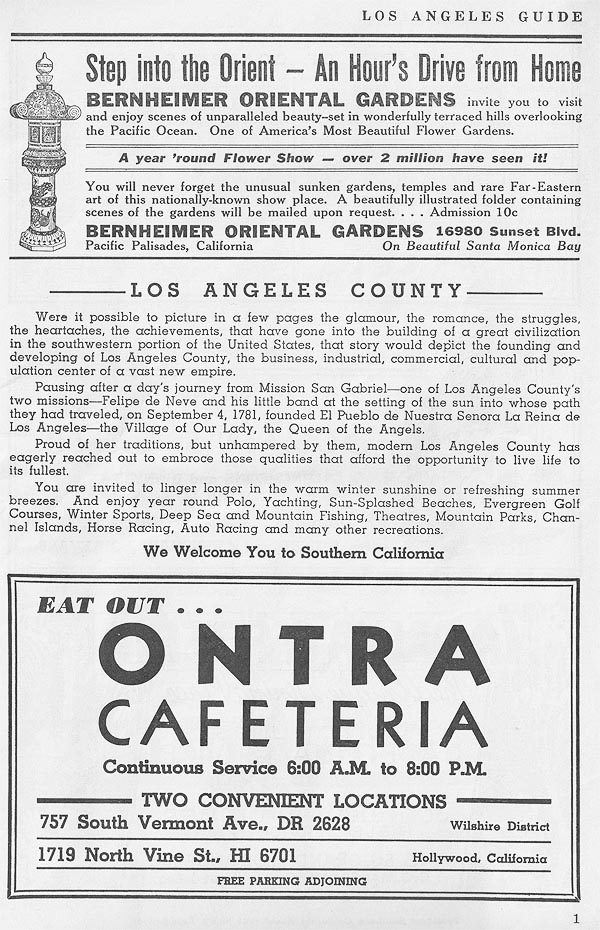 Says this site:
"The Bernheimer Gardens flourished as a tourist attraction until 1941, averaging 5,000 visitors a week. World War II was a factor in its fall from grace -- because it was oriental and because Adolph Bernheimer was of German origin. This triggered contempt and led to vandalism. Adolph's passing in 1944, financial difficulties and land erosion, caused the Oriental Gardens to slip into a state of disrepair. The property was vacated in the late 1940s and the treasures were sold at auction in 1951. All of the structures were demolished in the early 1950s."
--
Sums it up well: "the glamour, the romance, the struggles, the heartaches, the achievements." Not many cities today describe the attributes of their past as such. Especially heartaching.
--
There were two Ontra cafeterias in 1941; eventually, there were four. PIctures here. Dig the one on Crenshaw!