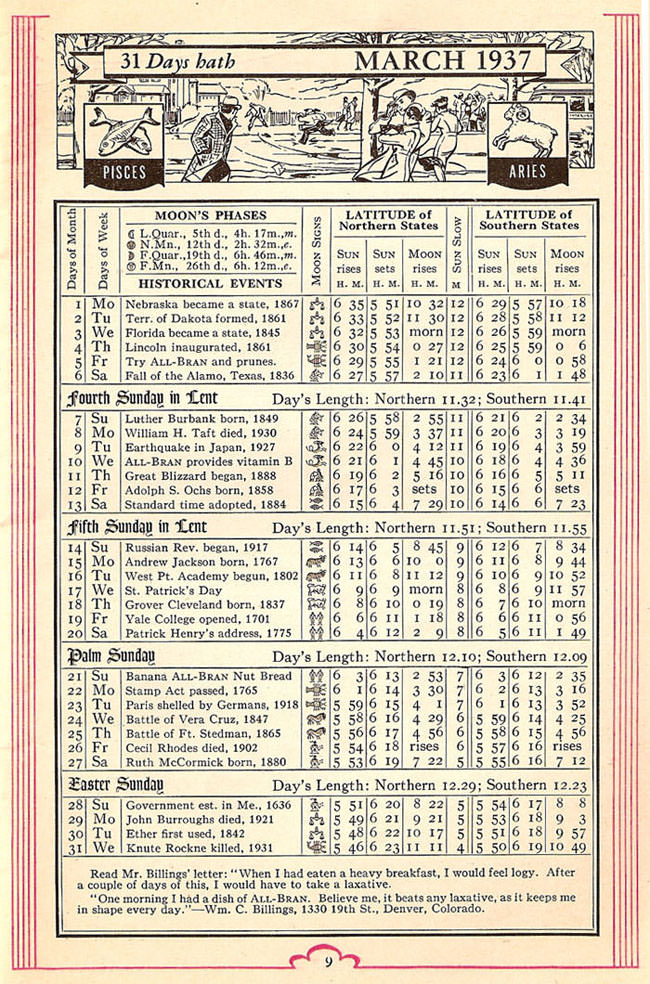 In between the inauguration of Lincoln and the fall of the Alamo, there's bran and prunes. There's always bran and prunes. Because only death and taxes are certain. A regular movement is not.
This month's crop of Famous Dates seems a bit more timeless, except for "Great Blizzard Begins, 1888." Wikipedia:
The Great Blizzard of 1888 or Great Blizzard of '88 (March 11 – March 14, 1888) was one of the most severe recorded blizzards in the history of the United States of America. The storm, referred to as the Great White Hurricane, paralyzed the East Coast from the Chesapeake Bay to Maine,as well as the Atlantic provinces of Canada Snowfalls of 20–60 inchesfell in parts of New Jersey, New York, Massachusetts, Rhode Island, and Connecticut, and sustained winds of more than 45 miles per hour (produced snowdrifts in excess of 50 feet. Railroads were shut down and people were confined to their houses for up to a week.